Saturday & Sunday
July 27-28, 2013
Saturday 10:00am - 6:00pm
Sunday 10:00am - 5:00pm
Location
Hardesty Park (map)
1615 W. Market St.
Akron, Ohio 44313
Cost
Free Admission
Parking
Free parking on grounds or take the Free Shuttle from Firestone High School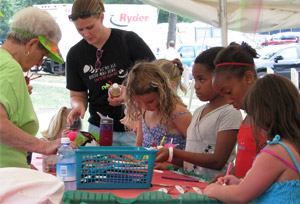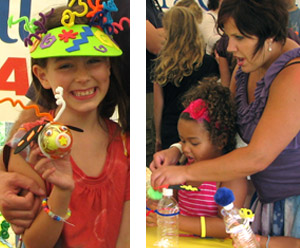 Food, Wine, & Fine Art
The Akron Arts Expo is a nationally recognized juried fine arts and crafts show with over 160 artists, ribbon and cash awards, great food, an interactive children's area, and fun entertainment for the entire family. Participants in the Arts Expo present fine quality arts and crafts that are offered for sale at great prices. The entertainment features performances by various local dance studios, wandering musicians, bands, costumed characters, and much more.
Whimzy World
The Akron Arts Expo invites children of all ages to experience the art world with hands-on displays, artistic and educational projects, face paintings, and exciting live children's performances.
Enter the Akron Arts Expo Coloring Contest for a chance to win great prizes. Color the contest page (2MB PDF) and return to an area Pat Catan's store! Winners will be recognized in the Akron Beacon Journal and on Ohio.com!
Announcing the Whimsy World Boutique! Featuring fanciful items to be purchased by the children attending Arts Expo this year. Prices range from $3 and under.
Silent Auctions
Did you find a favorite artist at the show? Visit our silent auctions in the special event tent on Saturday and Sunday to see what they donated. You'll find original artwork donated by all of the Akron Arts Expo artists plus generous donations from local businesses for auction.
Auctions close at 12:00 pm, 1:00 pm, 2:00 pm, 3:00 pm, and 4:00 pm.
Winner's need not be present at auction closing time, but items must be picked up by 4:30 pm on Sunday, July 28, 2013.
Cash, VISA, and MasterCard accepted.
The list of generous sponsors can be read here.